Yesterday (23 June 2022) in Bitola our Eryica Youth Ambassadors from Macedonia successfully organized a multiplier event within the project Youth Ambassadors and YinfoPEERs, where Poraka Nova is one of the project partners.
More than 30 participants joined the info session and training titled as: From Youth to Youth – Youth Information rights for every young person,  which was filled with interactive games and exercises, with an aim to promote the right for youth information, to bring closer the topic of youth information from different aspects to the young people and promote peer to peer learning.
The YA covered the topics of inclusion and mental health (as one of the topics on which the YA worked during the project in groups with other YA peers from different project partner countries).
Additionally the event was an opportunity for Eryica YA from Macedonia to practice the gained skills and learning's from the training in Barcelona and transfer the knowledge to their peers locally. The project Youth Ambassadors & YInfoPEERs was promoted and the experience behind it, along with presentation of the content from the intellectual output 2 from the project (Youth InfoPEERs training manual).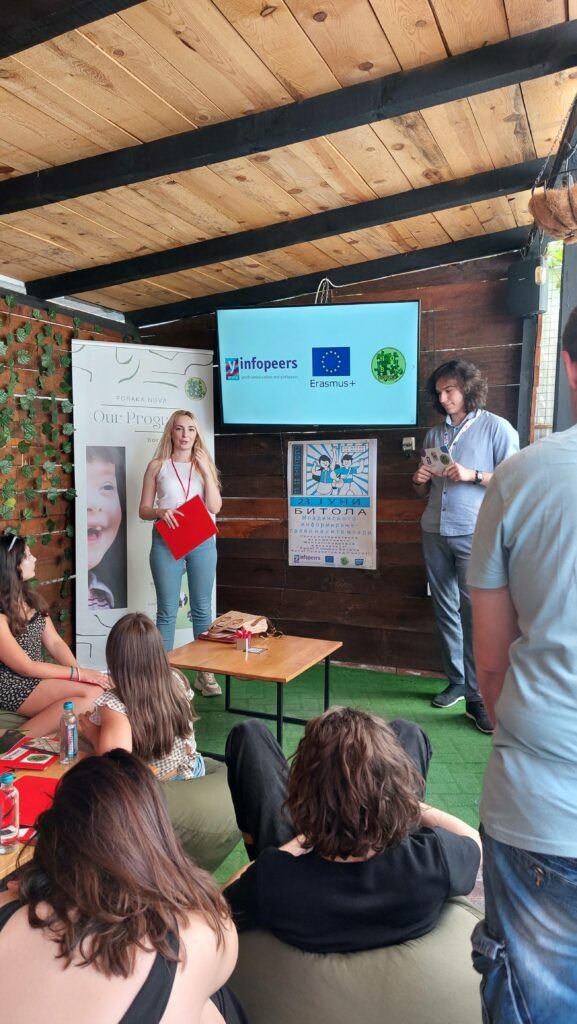 The event started with energizers by Ivan Tabakovski, then a welcome speech from Kristina Stankovska and Pece Krstevski. The first session was dedicated for presentation and discuss with the participants on young people's right to information on more wide aspect, as well Pece presented the project Youth Ambassadors and YinfoPEERs, the personal experience of his involvement of the project and the content form the IO2 – Youth InfoPEERs training manual).  Afterwards a session on the topic of inclusion followed, where Kristina Stankovska and Tamara Ilioska spoke about the youth information services related to this topic and demonstrated how the youth events can be inclusive by inviting people with intellectual disabilities on their event in Bitola.  Moreover, this session was аcompanied with interactive exercise where people learned about the inclusion through game. After short brake, the event continued with the third  session. Living through the covid pandemic, one of the topics that ambassadors bring into surface is the mental health problems, that youth started to face as a real everyday life challenge. Some of them opened up about the issues that they were straggling, isolated and scared. Talking peer to peer it was comforting and easier for them to talk to each other, understanding and supporting together, giving advices and ways for breakthrough the situation, they were longing to leave out. The exercises for this topic were light and included more interactive talking and visualizations. The session finished with printout individual "triangle health" test.
At the very end the participants were invited to evaluate the event with pros and cons on a sticky notes and lunch with non-formal networking with the YA was organizined as a closure for the event.
We are thankful tremendously to everyone who joined the event and supported our YA event! Check the photos below!